Monster Nod Studio's Modern War Online: Super Fire is a first-person shooter (FPS) video game that is played online in a team environment. One of the unique aspects of the game is that players can construct their own weapons and organize their own teams to compete in the various matches.
Present information regarding the game Modern War Online: Super Fire
A first-person shooter played online in teams, with the option for players to construct their own weapons.
Background
There aren't that many first-person shooter games that let you construct your own weapons and have interesting fights. Try out the Modern War Online: Super Fire mode if you would want to participate in this game's action-packed gameplay from beginning to end.
The online first-person shooter Modern War Online: Super Fire is played in a cooperative environment. You take on the role of a military commander tasked with leading your troops on various critical combat operations. You are going to guide your team to big championships in top-tier competitions thanks to the excellent leadership and resourceful gunsmithing that you will provide for them.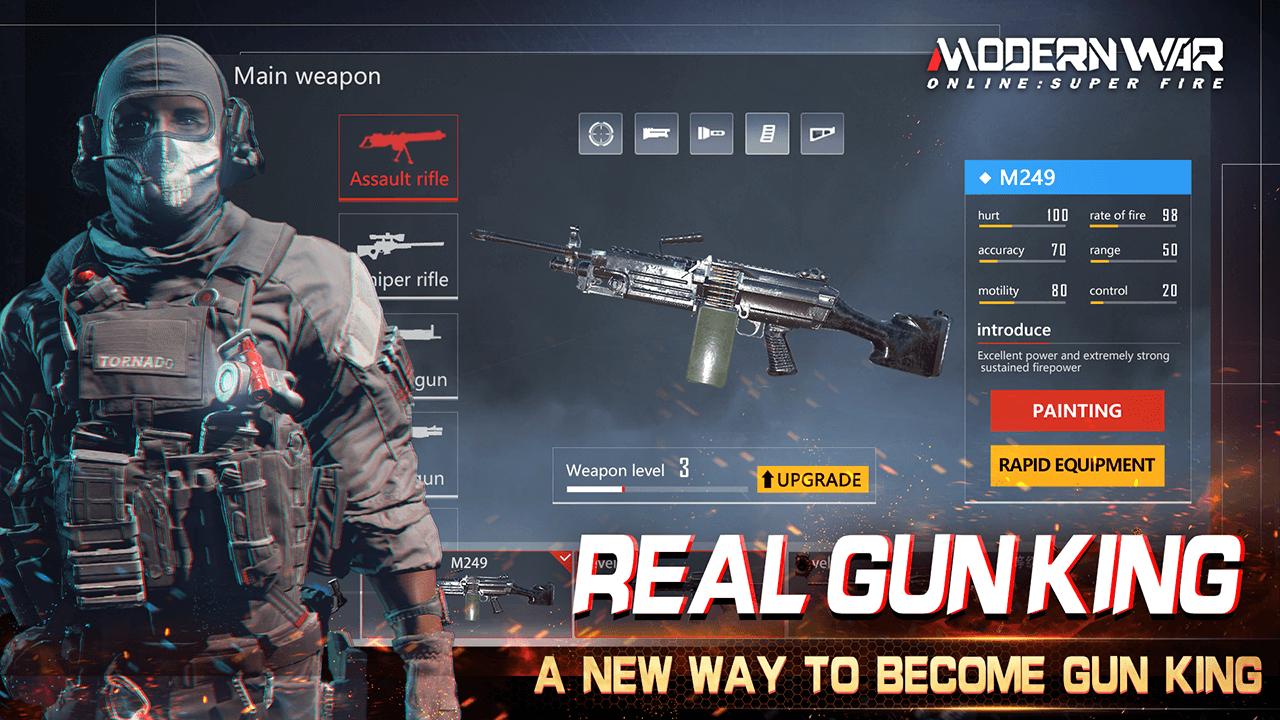 Playability on a variety of mobile devices
The fact that it can be played without hiccups on a mobile device is the first interesting thing about Modern War Online: Super Fire. This game has been built for several generations of mid-range mobile phones and higher, yet the graphics still have depth, the gameplay is still challenging, the action and the movement of the characters are varied. You won't experience nearly as many lags, freezes, and jerks in the screen as you would in other graphically intensive shooting games when you play this one.
Players of Modern War Online: Super Fire also have the option to select from one of three quality modes. In this way, you will be able to enjoy playing the game to the fullest, taking into account the capabilities of the gadget. Even if the player's smartphone does not have the worst configuration, the fact that they enjoy shooting makes this a significant aspect in the game's ability to appeal to a large number of players.
A wide variety of fun gameplay options
Additionally, Modern War Online: Super Fire is a game that features a variety of gameplay modes that together create an immersive shooting experience. You can opt to battle as a team, engage in the knife fighting mode, or engage in the blasting tasks… Both traditional and innovative aspects are present in both styles, and mastery of either one calls for rapid thinking and dexterity. Therefore, you should always try to create drama for every player in every shooting style.
More than ten maps are available to players in Modern War Online: Super Fire, and the game will continue to receive updates in the foreseeable future. This will result in more borderless combat for gamers. If there is a shooting game that has a hand but is continually increasing, meaning that every time you come back there is something new to find, then you will probably download it to your computer so that you can play it leisurely, right?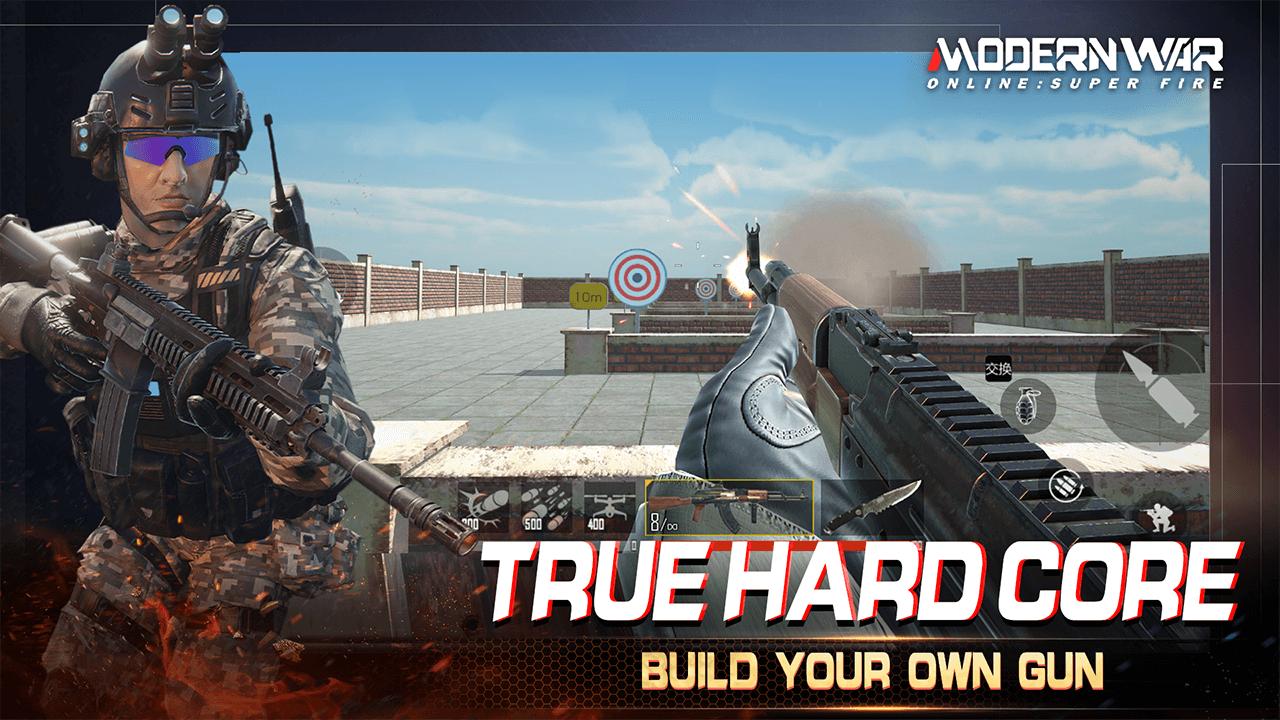 Construct your very own firearms and a wide assortment of bizarre other weaponry.
You are able to craft your own weapons, which is one of the most significant new features introduced with Modern War Online: Super Fire. You will gradually gain more points and unlock numerous weapon improvements and new guns as you progress through the accomplishments. You will also gradually have more options to make your own weaponry as you progress through the game.
You will be able to upgrade and customize the weapons you carry with you to make them look cooler, and have enhanced attack stats, both in terms of speed, recoil, and ability to fire. These basic guns include rifles, sniper rifles, shotguns, submachine guns, and many other powerful guns. These upgrades and customizations are based on the guns that are available to you in the game. You will always be able to construct your own powerful weaponry that are unlike any others thanks to the game's extensive accessory system. This will allow you to demonstrate your unique sense of flair.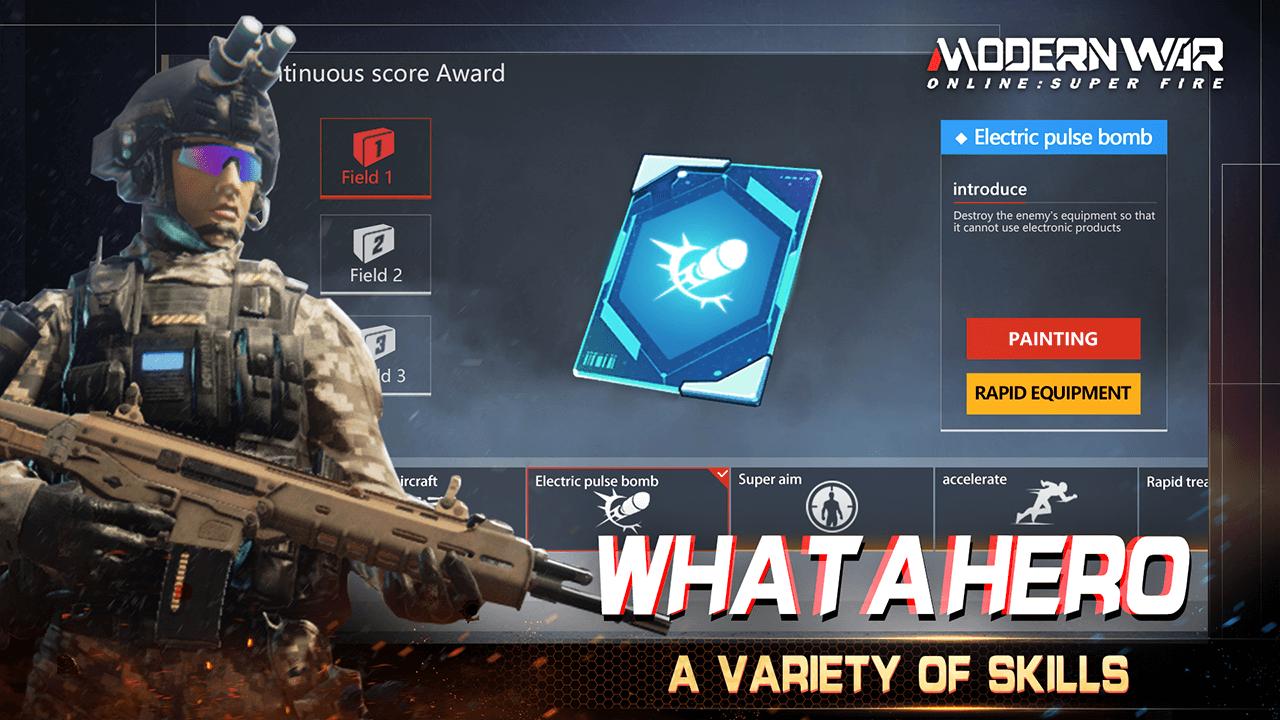 Multiple combat talents
In addition to teaching you how to shoot and construct weapons, Modern War Online: Super Fire teaches you a variety of epic fighting skills. Simply having a wide range of skills is enough to give you a significant advantage in fights. For example, being able to hide behind natural features, using surprise attacks, having sniper skills, being able to run backwards, and jumping over large gaps… When you combine your shooting talents with these moves, you will be able to execute numerous different surprise fighting tactics. Obviously, everyone needs to have a conversation with the rest of the team in preparation so that they can seamlessly coordinate their efforts and bring the victory as quickly as possible.
Download the APK file for Modern War Online: Super Fire for Android here
Those of you who enjoy participating in competitive shooter games in online groups will enjoy playing Modern War Online: Super Fire very much. Players have the ability to actively call friends or team up with a large number of other players from all over the world thanks to the game's support for group chat and matching. It's time for you to give a new community a shot and enjoy the gameplay with some seriously powerful custom weapons.
>> Read more: