Rovio Entertainment Corporation, the inventor of the original Angry Birds game as well as its developer and publisher, is also responsible for creating the Angry Birds Transformers video game. No longer are the passive Angry Birds firing at the greedy pigs' fortress; rather it is the active birds shooting at themselves. You will don brightly colored armor and engage in fierce combat on vividly colored battlefields as you play this game, in which you will assume the role of a brave transformer robot warrior.
Explain what you know about Angry Birds and Transformers
Angry birds can now take the form of a robot transformer!
What exactly is meant by the name Angry Birds Transformers?
The first time you see a crossover between Angry Birds and Transformers will be in the game Angry Birds Transformers. What is the connection between these two things? If you can't picture it, you can try it out for yourself by downloading Angry Birds Transformers and playing it right away.
Angry Birds Transformers is a dramatic 3D action shooter with a whole different storyline and background. In previous versions of Angry Birds, players had to shoot angry birds to attack the ramparts. Angry Birds Transformers, on the other hand, features an entirely new scenario.
Background
EggSpark, in pursuit of his lofty goals, has transformed bird eggs into cumbersome and bizarre robots. They travel over the entire island and wreck whatever there is to ruin. It's possible that in the future there won't be any more species able to live here. Is there anyone who can stop these belligerent robots?
AUTOBIRDS are the only force capable of achieving this goal
AutoBirds are fearless extraterrestrial robots that have been modeled after the embodiment of traditional robots depicted in the widely popular Transformers film series. However, when the AutoBirds army enters the planet of Piggy Island, they instantly transform into a crossover between Angry Birds and Transformers. To be more specific, Red takes on the role of Optimus Prime, Chuck plays Bumblebee, and they are joined by a plethora of other allies who you will have the option to unlock throughout the course of the game. Can you help bring peace to Piggy Island when you join the team of heroes in combat against EggSpark's wacky robot squad?
Gameplay
Warriors in the AutoBirds series are able to fight with weapons and lasers, just like their predecessors in the Transformers series. Warrior characters will, of course, be able to transform into vehicles of the same hue and design as the robot they assume when fighting.
It's possible that this is the very first time you've seen the furious birds morph from robot to automobile and back again. Automobiles are notable for their coolness, power, and speed. The robot's body is heavily armored and musculoskeletal, and it possesses exceptional fighting ability.
The fact that the fight scenario is much more wide is an interesting aspect to consider. EggSparks are so massive that if they go just a little bit more, they will be able to wipe out a whole island. In the short run, you won't be able to preserve Piggy Island on your own even if you fight them. Therefore, you will need to form an alliance with your adversary, the DECEPTIHOGS. You have to coordinate everything, be flexible in switching formations, divide forces, determine when to employ AutoBirds or DeceptiHogs, fight robots, and convert into vehicles so that you may take advantage of their speed. The outcome of the conflict will depend on which of these decisions is made at which particular moment in time.
Get access to the robot warrior
Built on the foundation of action battle, the game grants access to new heroes and new villains after a predetermined number of foes have been vanquished. In an unending game, new attacks and special powers are always being unlocked.
While all AutoBird warriors and their allies appear to be armored, their offensive capabilities and battle styles vary greatly from one another. In order to make full use of the abilities and attacks offered by the robot army's various characters, you will first need to become familiar with their individual traits. This is the only option available to you that presents a possibility of success.
The key to victorious competition is adaptability
In addition to the fact that you have to learn each AutoBird's unique combat ability and make full use of it, the most important factor in determining whether or not you will prevail is your level of adaptability.
This adaptability is made possible by the transformations, which allow AutoBird to switch between the forms of a car, truck, tank, and even an airplane in a matter of seconds. In order to avoid being shot, escape from danger, and seize advantageous situations to strike back at opponents, characters have to swap between different classes continually.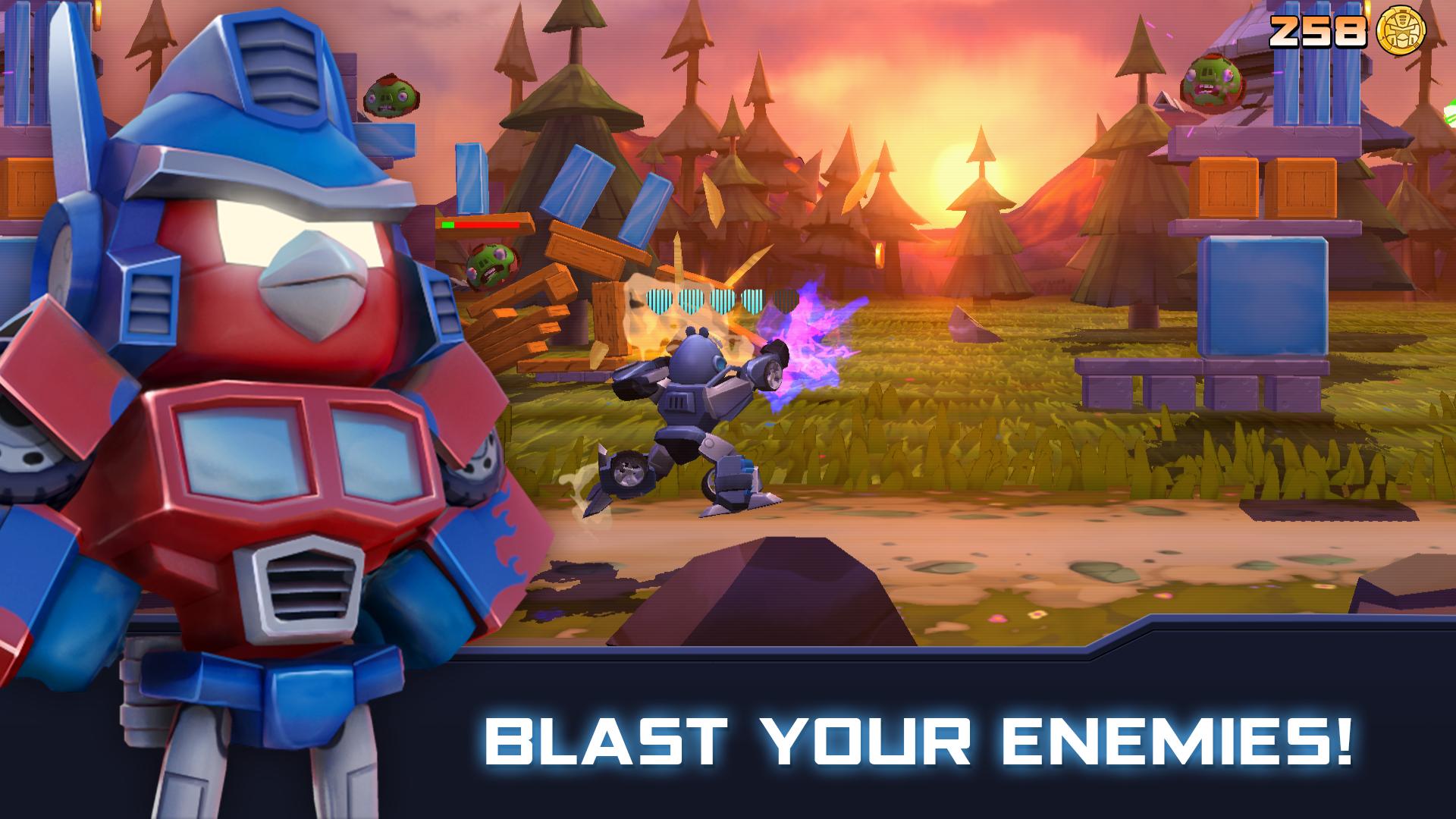 Transformation is not the only factor that determines strength. You should also make the most of any available upgrades to your weapons. In order to continuously improve the fighting ability of each AutoBird, you will need to continually collect more powerful weaponry, upgrade components, and new engines.
When you reach a particular level, you will also be able to possess Telepods, which can be scanned in order to unlock, revive, or even strengthen the bosses that you own. Telepods are unlocked when you reach a specific level. When it comes to the later matchups in the game, this is a strategy that works quite well.
Angry Birds Transformers: MOD APK is available for download
MOD include an Unlimited Amount of Money
You can get the Angry Birds Transformers APK and MOD for Android by clicking here
The action in Angry Birds Transformers moves at a breakneck rate, but the game is accessible to players of all ages thanks to its vibrant battlefield and lighthearted approach to combat, which minimizes the use of physical force. Both the boss and the car have a modern and edgy appearance thanks to their design. If you enjoy the Angry Birds universe but have become tired of playing the same old games over and over again, you should check out the new game Angry Birds Transformers.
>> Read more: